RESIDENTIAL APPLICATIONS of SPECIALTY WINDOW TINT FILM
Elmore Associates offers a variety of residential window film tinting that act as an invisible barrier to keep out harmful ultraviolet (UV) light and heat while letting in cool, clear, visible light. Our experienced professionals provide on-site consultation and a recommendation that best suits your application. Fading is a result of three sunlight factors and, to a lesser degree indoor artificial lighting, humidity, and poor dye anchorage play a role as well.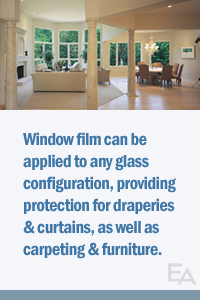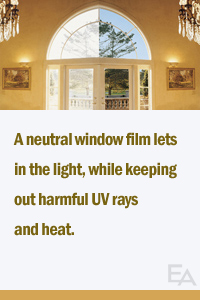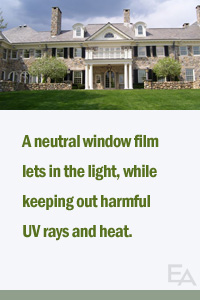 Fade Control is one of the foremost problems we are called upon daily. Whether it's a retail store, a commercial building, or a home, fading is an ongoing problem.Β What causes fading? A combination of visible light, ultraviolet light, heat, and miscellaneous factors (such as indoor artificial lighting, humidity, poor dye anchorage). We can reduce the effects of fading with the installation of solar control window film, which helps to reduce the fading of carpets, clothing, furnishings, etc.

To understand the causes of fading, one needs to know a little about the makeup of sunlight.

Sunlight is basically made up of three elements.
• Visible light – the part which enables us to see.
• Infrared light – the part which we feel as heat.
• Ultraviolet light – we cannot feel it or see it, but it is the main factor in causing fabrics, furniture and works of art to fade

Call us if:

• Your furnishings, draperies, or wood floors are fading prematurely.
• You experience "hot spots" throughout you home, due to excessive solar heat gain.
• During the daylight hours, your favorite room is plagued by harsh glare through your windows.